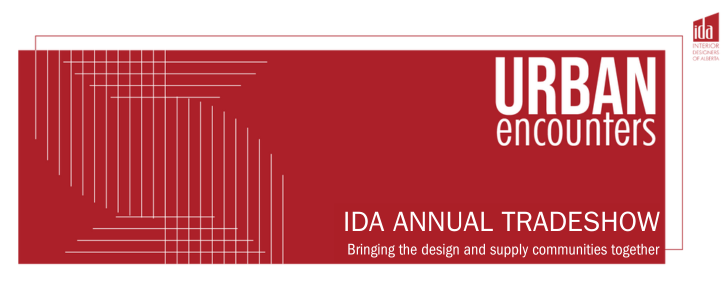 Alberta's top interior design trade show
OCTOBER 3, 2023
BMO Centre, Stampede Park, Calgary
OCTOBER 5, 2023
Edmonton EXPO Centre, Northlands Park, Edmonton
Step right into the world of design and immerse yourself in the ultimate encounter of creativity and innovation at the 2023 IDA Annual Tradeshow, Urban Encounters, this October.
Back in the Fall calendar by popular demand, Urban Encounters is a must-attend event for interior designers and suppliers in Alberta. We're excited to incorporate CEU-credited educational programs into the event this year. It's not just about networking or discovering the latest products and trends in design; it's about expanding your knowledge and pushing the boundaries of what's possible.
Mark your calendars for October 3 at the BMO Centre in Calgary and October 5 at the EXPO Centre in Edmonton!
Secure Your Tickets
Join us in Calgary or Edmonton for an evening of inspiration and networking.
Non-member Ticket: $80 ($30 for tradeshow only)
IDA Member: $60 ($10 for tradeshow only)
Non-member Student: $65 ($15 for tradeshow only)
Industry Partner: $125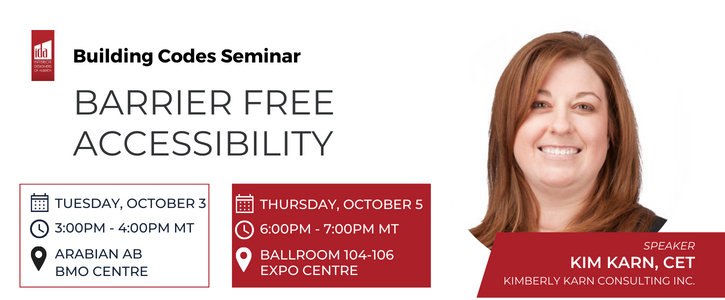 Earn 1.0 CEU at the show!
Besides the tradeshow, make sure to also sign up for the building code workshop on accessibility, presented by the building codes expert Kim Karn.
Who would you see on the show floor this year?
Many companies and organizations have already committed to showcasing their latest products and services at this year's tradeshows. This is your one-stop shop to check out the newest paint products and the hottest trends in textiles, window coverings, and more!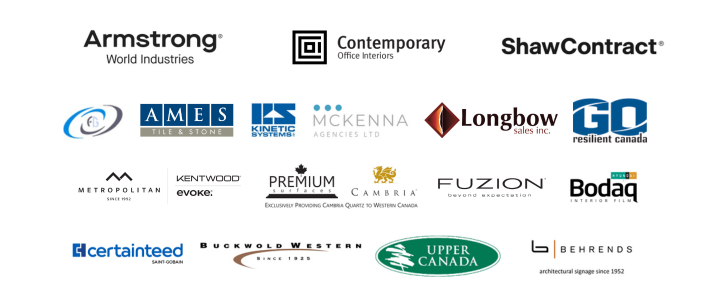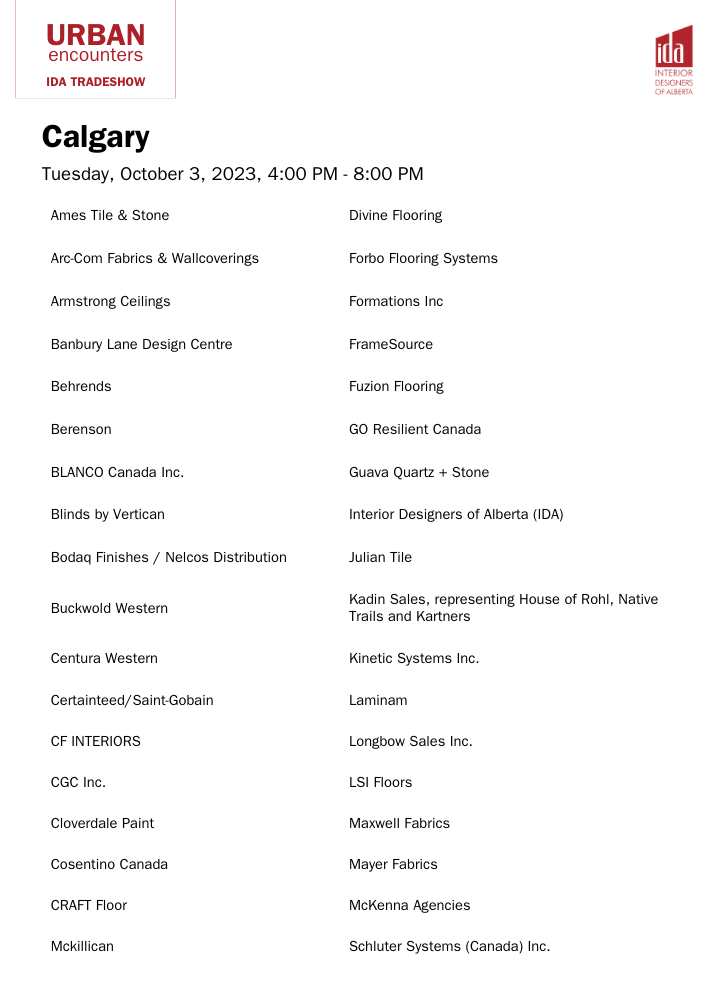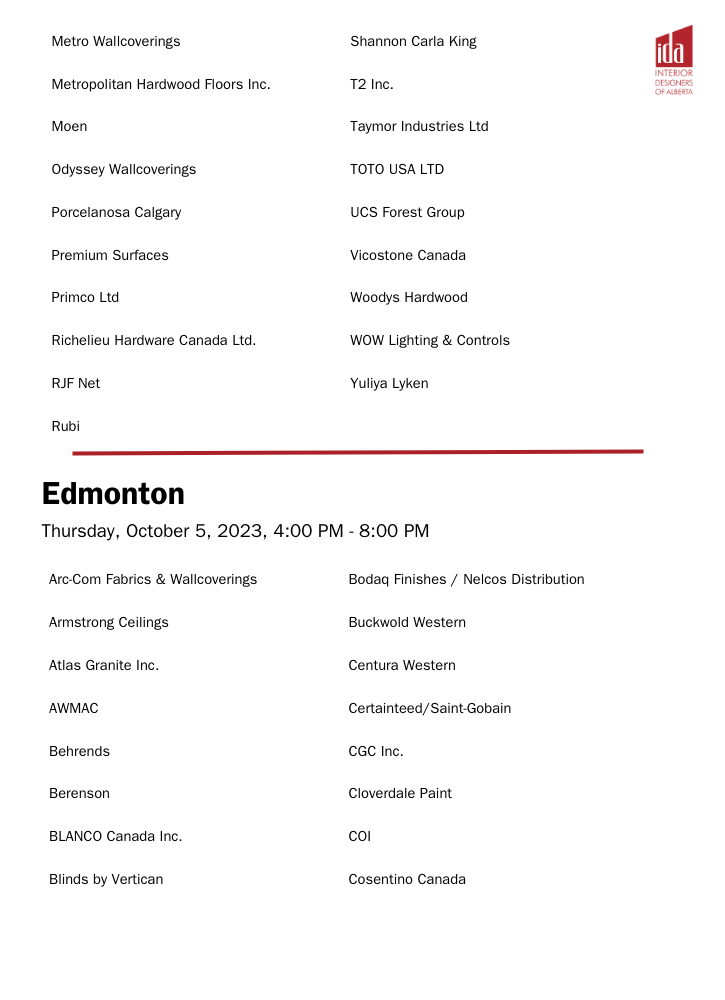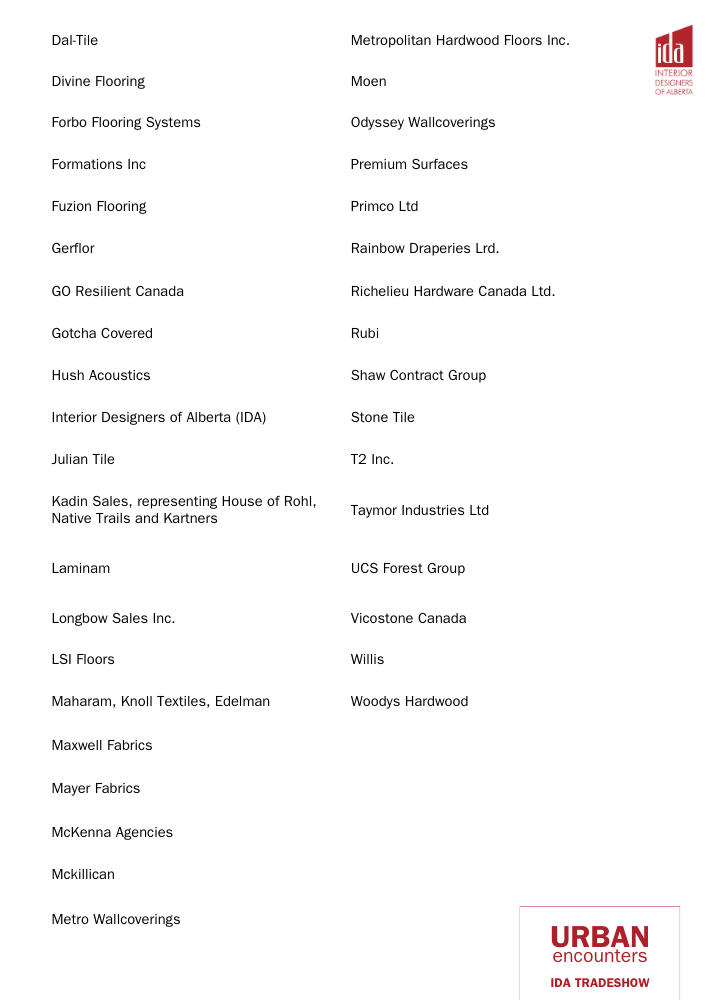 Questions about the event?
More event information will be announced soon. If you have any questions or inquiries about the event, please contact us via urbanencounters@idalberta.ca.
Sponsorship and Exhibitions
Contact us for last-minute opportunities to still be part of the shows!
There are only a few spots left at both Calgary and Edmonton events, but we are committed to making magic happen if you are too. If you are planning a Q3 sales campaign, launching a new product line, or simply want to reconnect with clients and prospects, the IDA Annual Tradeshow - Urban Encounters is the event you must have a presence.
Contact us at urbanencounters@idalberta.ca to discuss a custom partnership just for you.