Photo: MASI 2018 Silver Recipient, Institutional/Healthcare Category, Stantec Architecture Ltd., NAIT Centre for Applied Technology
Can you believe we have reached the last month of the decade? The 2010s have had their ups and downs, and I think we're all ready to turn the page on a fresh new phase.

For the IDA, 2020 rings in an important milestone: Our 60th year in existence! We are planning a big year of events and offerings for members. Stay tuned for more information. In the meantime, it's interesting to look back at where we started.

Like many important movements, the origins of the IDA were humble. Historical documents from October 9, 1957 state that,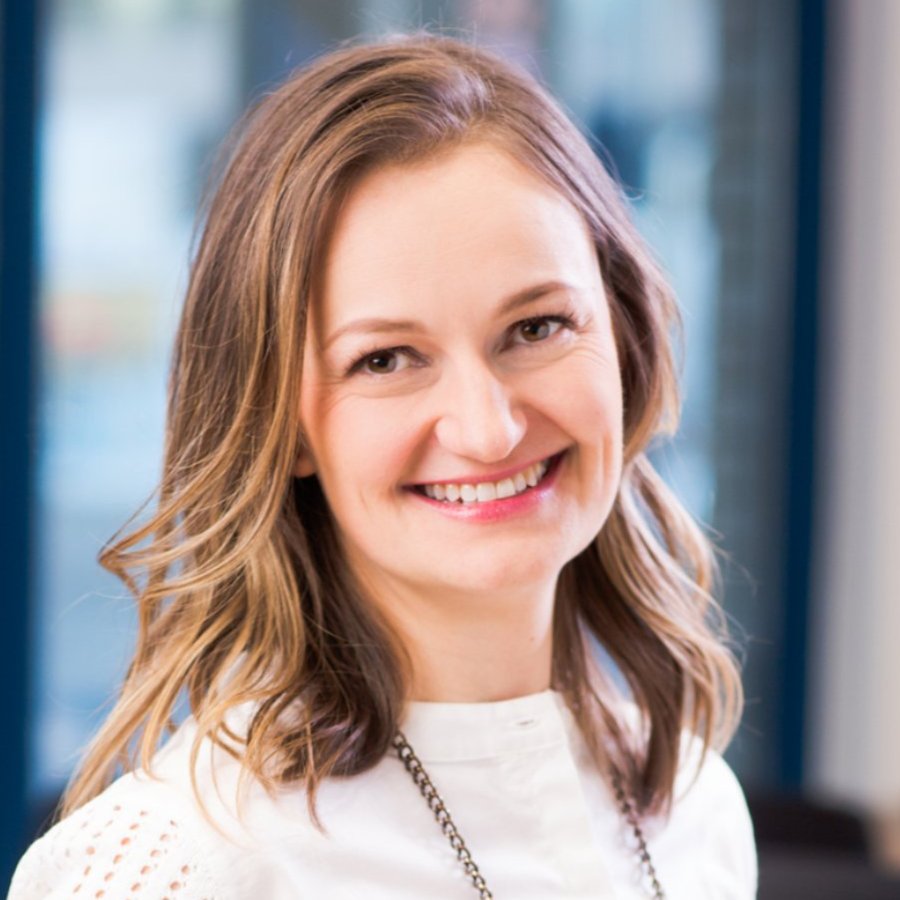 Kerri Peyton
IDA President
"[T]he first organizational meeting of a group of Calgary Interior Designers was held...with nine members present. Opinions were expressed that designers would gain prestige in the community if their services were publicized by lectures, ratio, TV or display of finished jobs..."
The RIDIA Act (Registered Interior Designers Institute of Alberta) was later incorporated on April 11, 1960, and the stated purpose of the organization was:
"to increase the knowledge, skill, efficiency and proficiency of its members in all things related to the profession...business organization, administration and ethics, to encourage, promote and extend the Profession of Interior Designing, and to maintain, disseminate, and advance ethical concepts of artistic knowledge in that Profession."
It's amazing to me how relevant these original intentions remain today. When we talk to members, the common requests we hear over and over are:
Can IDA help the public understand what we do, and advocate for our profession?

Can IDA help me grow as a professional?

Can IDA help me run my business?

Can IDA connect me with my colleagues in the Interior Design community?
The answer to all of these - today, as it was 60 years ago - is that we are trying, very hard. As an almost entirely volunteer-run organization, there are always initiatives we would love to launch if we only had more member support. Please, consider reaching out to find out how you can help.

We look forward to having you join us in 2020 as we celebrate how far we have come, and plan how we can go even further together.
The IDA office will be closed for the holidays from December 23rd and will be re-opening on January 2nd at 8:30 am.

Warm wishes from our office to yours!
You will be receiving your 2020 IDA membership renewals on December 1st.

IDA Council has been working to ensure we are managing your dues responsibly and have made efforts to streamline where we can. Because of this, IDA membership fees are not increasing from 2019.

What has changed is IDC is taking over managing and collecting its own membership fees now instead of working with each province. The invoice you will be receiving from IDA is only for our dues, not IDC as well.

Membership with IDC is not a requirement for membership with IDA and should you decide to only renew with IDA, we have arranged direct access for our members to professional insurance through Prolink for Fall 2020 insurance renewals.
2019 MASI Design Awards Recap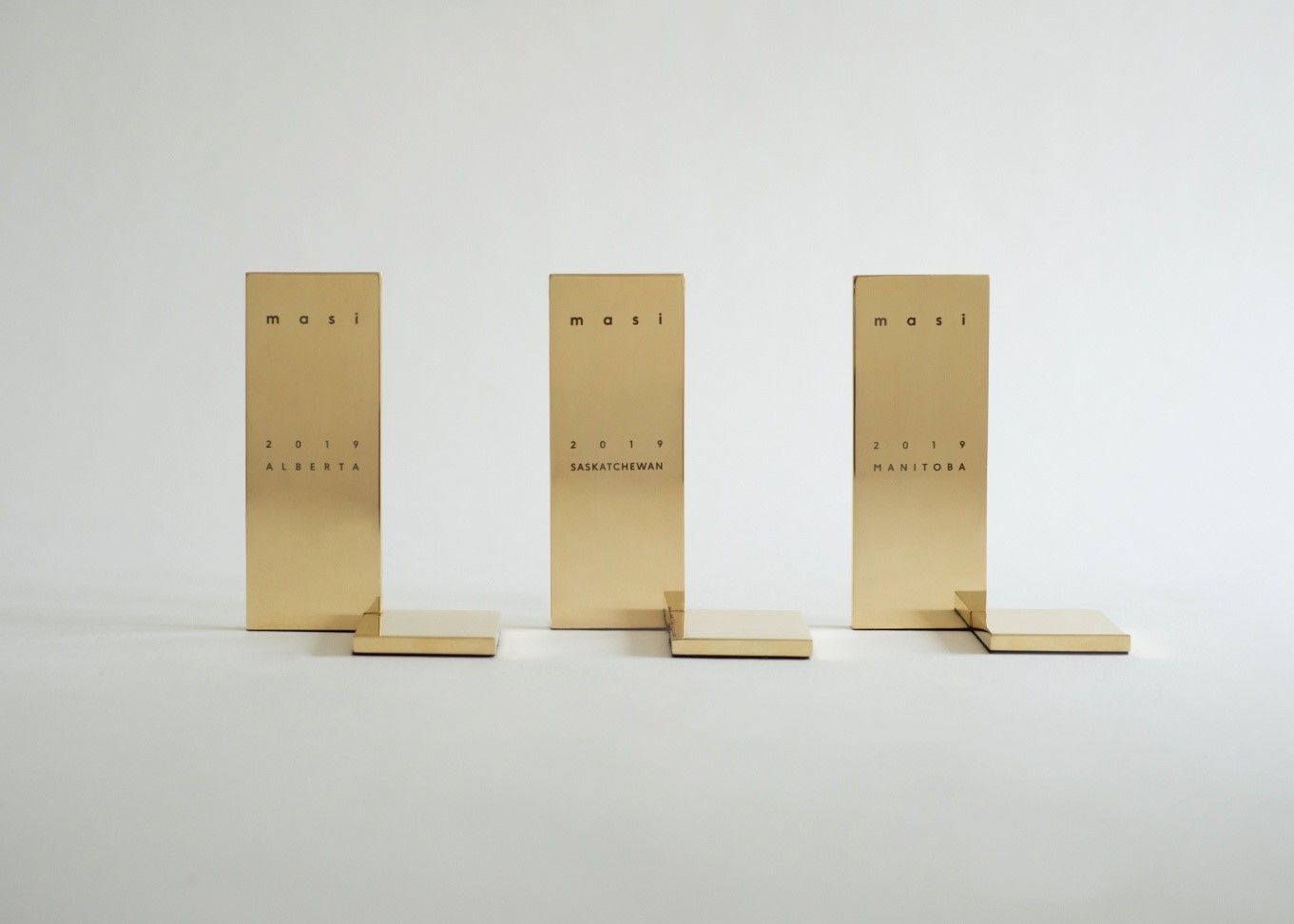 On October 17, 2019 the provincial interior design associations of Manitoba (The PIDIM), Alberta (IDA) and Saskatchewan (IDAS) celebrated the 3rd Annual MASI Interior Design Awards with a gala celebration at the Canadian Museum for Human Rights in Winnipeg MB in conjunction with the 65th Anniversary Celebration of The Professional Interior Designers Institute of Manitoba. With 79 Award submissions in 10 different categories, from all three Prairie Provinces, this was the most successful MASI Design Awards to date.
The 2019 MASI Design Awards also saw the design of a new Awards trophy. The MASI Design Committee worked with Thom Fougere of Thom Fougere Studios.
BUILDEX Interior Design Keynote Recap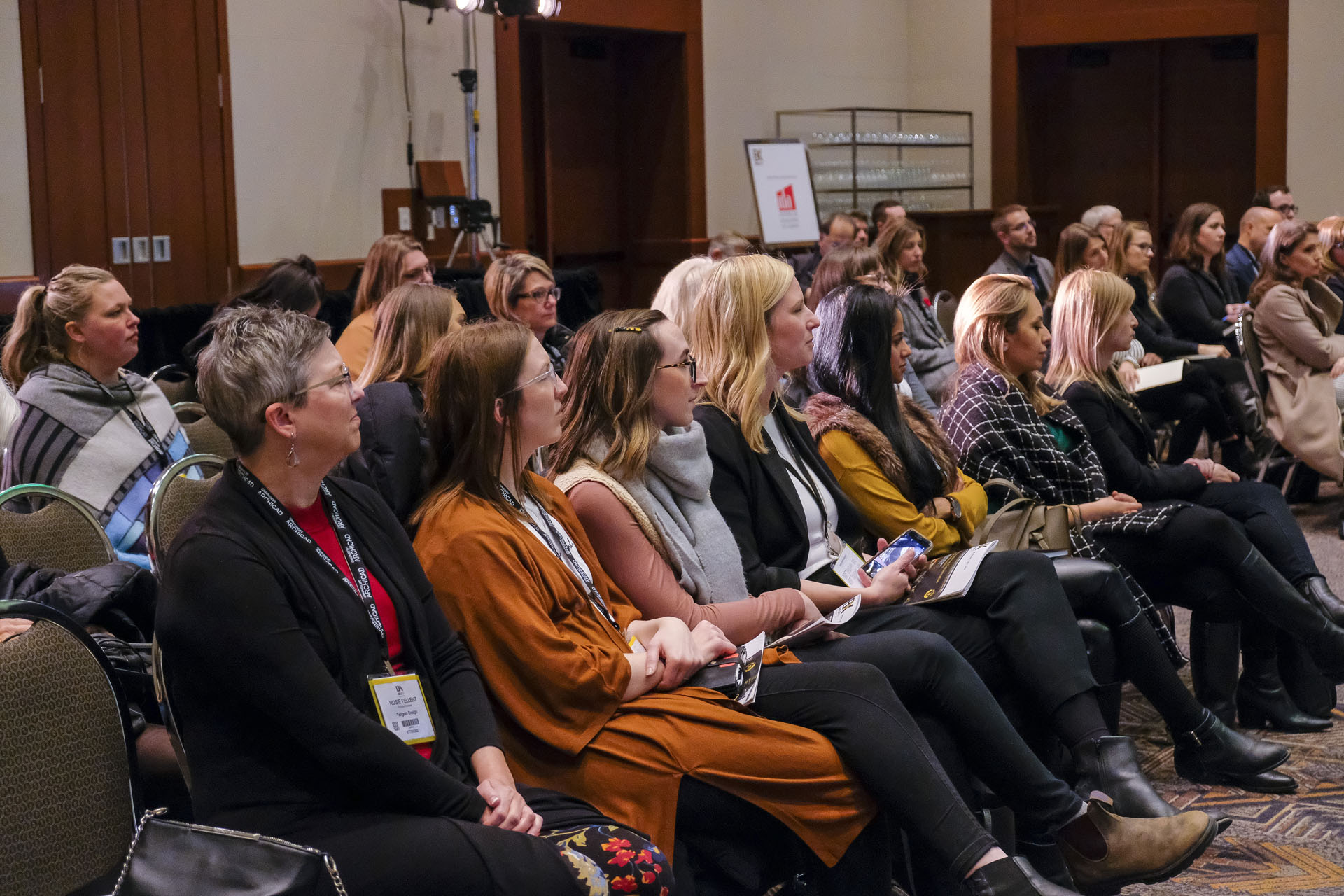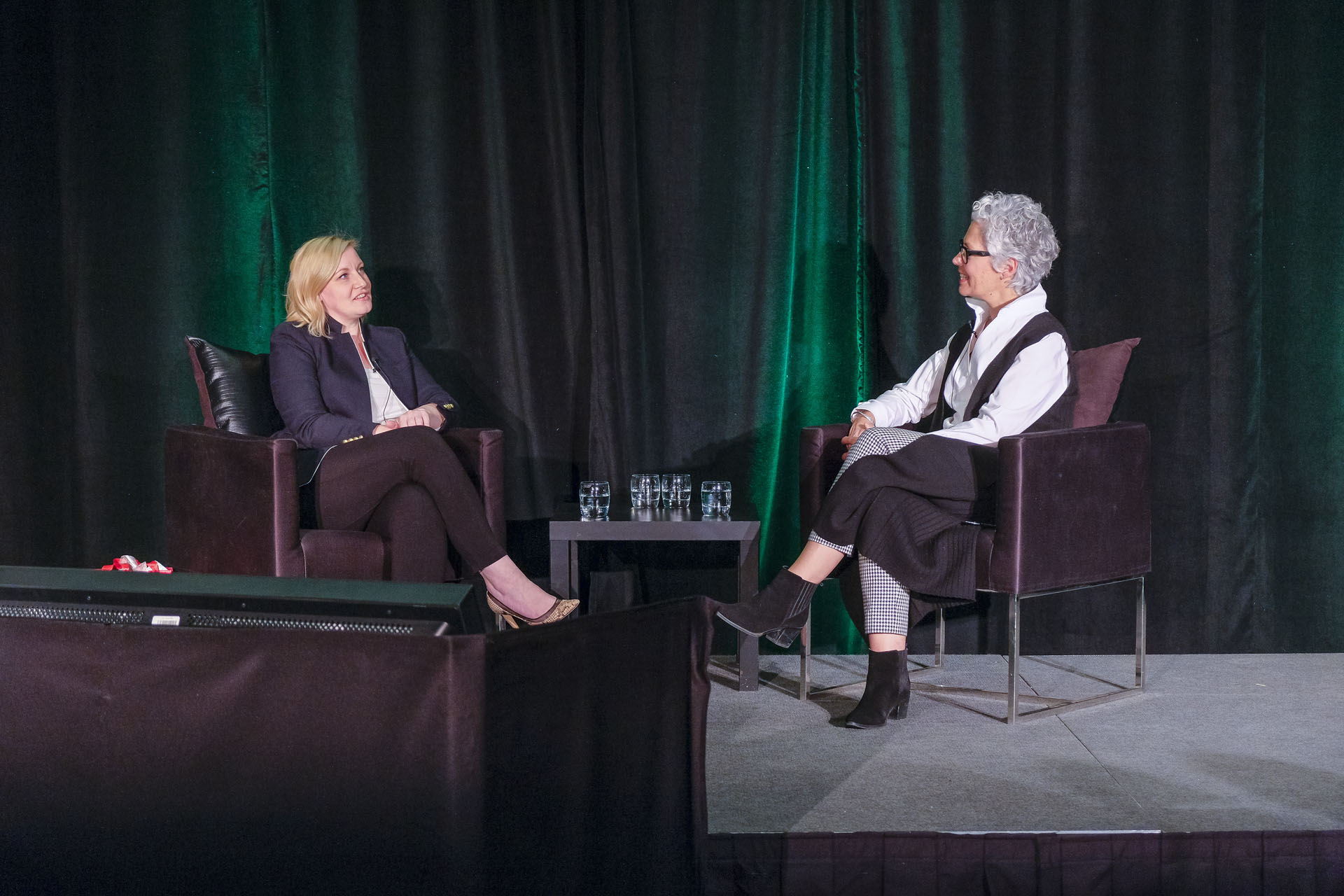 On Nov 6, IDA partnered with Buildex to present the Interior Design keynote and reception. More than 45 attendees gathered to hear Calgary-based senior interior designer Jacqui McFarland in conversation with principal designer Sarah Ward, known for her local hospitality spaces and recipient of the 2018 MRU Alumni Achievement Award.
The discussion centered around Sarah's philosophy in building her business and working with clients, with plenty of interesting take-aways for fellow designers and small business owners.
Thanks to all our members who took advantage of the free entry and came out to connect with our colleagues. IDA looks forward to continuing our partnership with Buildex Alberta in coming years!
IDA Member Project Feature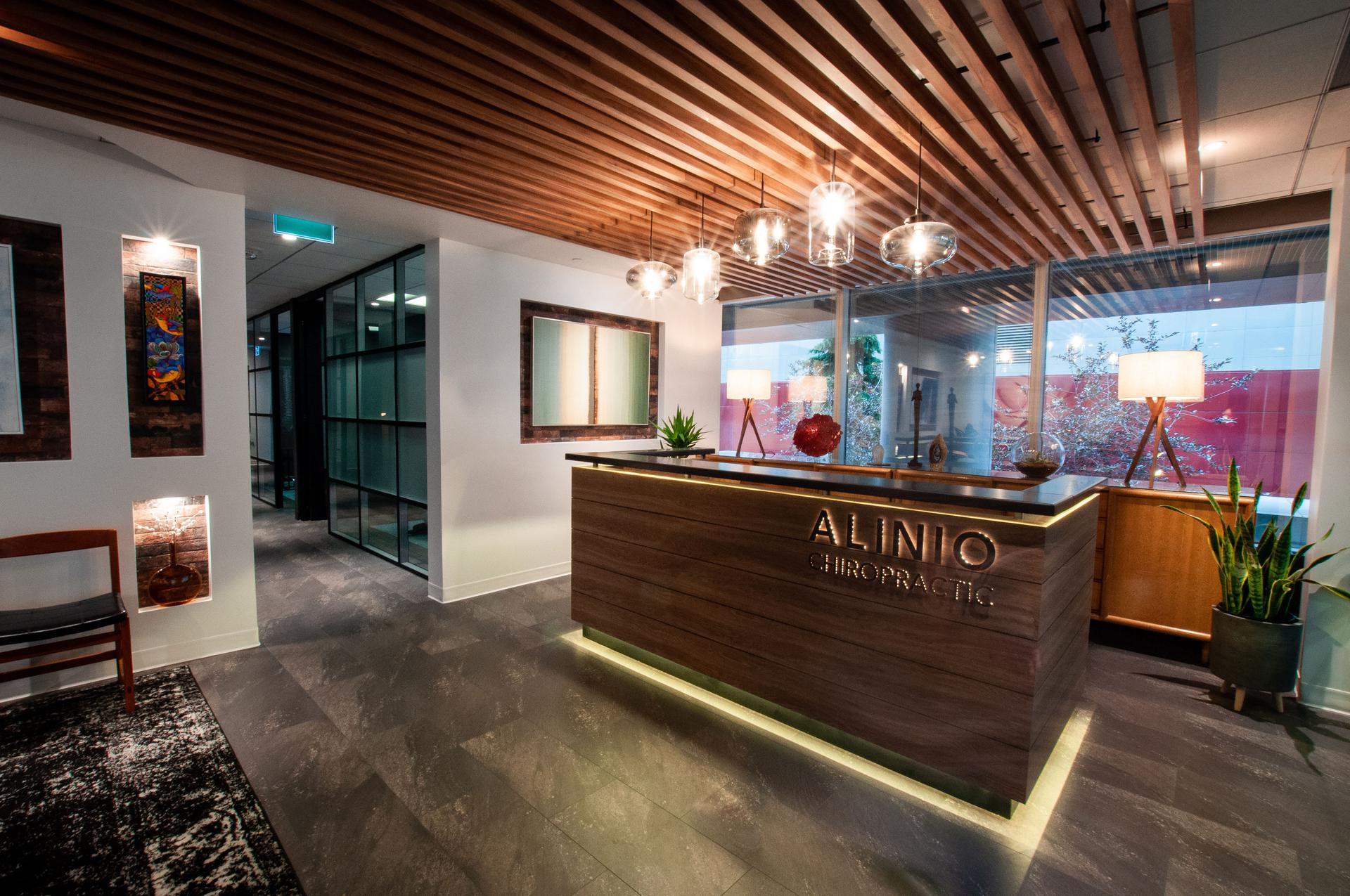 Alinio Chiropractic & Massage
Designer: Sonja Dutra, Intern IDA Member.
Location: 2nd Floor, Bell Tower, Edmonton
Size: 1635sf
Dr. Sian Williams was looking to create anything but your traditional chiropractic clinic. The storefront visual, along a busy downtown pedway connection, is one that immediately grabs your attention. The transparent glass facade welcomes patients into a modern but calming reception. Deeper tonal values from the wood and brick elements provide a sense of warmth. This, accompanied by accent lighting helps to further accentuate and elevate the space. The central corridor draws you in with its shift in darker tones and subdued lighting. As the focal point, it signals a safe and quiet treatment area, which acts as a solid canvas for Dr. Williams to earn and create repeat business.
We would love to showcase the work of our members on our social media platforms. Simply use the hashtag: #idalbertainteriors for a chance to be featured. Our next feature will be in December, providing plenty of time to get those projects photographed!
Upcoming Events of Interest
AAA 2019 Edmonton Holiday Social
December 5, 2019 - The Common (Edmonton, AB)
Bricolage Calgary Presents Pedesting Non-Profit Sector and General Public Showcase
December 5, 2019 - Calgary Municipal Land Corporation (Calgary, AB)
2019 CSC Calgary Christmas Social
December 10, 2019 - CHOP Steakhouse and Bar, Chinook Centre (Calgary, AB)
University of Calgary School of Architecture, Planning, and Landscape presents Panel: Just City
January 15, 2020 - City Building Design Lab (Calgary, AB)
Current Openings

Opportunities advertised below are subject to change, please visit our job board to view current listings and for more information.
A&D Sales Representative - Alberta - Divine Flooring (Calgary, AB)
Call for Volunteers - If you are interested in getting more involved with the IDA, specifically its events, both current and prospective, please reach out to the IDA.
Volunteer

Contact the IDA office to learn more about volunteer opportunities for members.
Meet the IDA Council

Get to know our council members and follow us on social media.
Interior Designers of Alberta
202, 5405 99 Street NW
Edmonton, AB T6E 3N8
780-413-0013