Photo: MASI 2018 Silver Recipient, Hospitality/Restaurant Category, Mattson and Company, Regal Cat Cafe
What a fantastic month it was for Alberta interior designers! Throughout October, I was reminded repeatedly of the value of community.

Just last week we celebrated Talking with Designers Live, which I was honoured to participate in. We had a wonderful discussion about building community within the design industry, where to continue to find inspiration for our work, and common challenges faced across design disciplines. If you didn't make it, definitely check out the recording of the session, available at the IDA Facebook page. And watch for more information on the next session, set to take place in Calgary!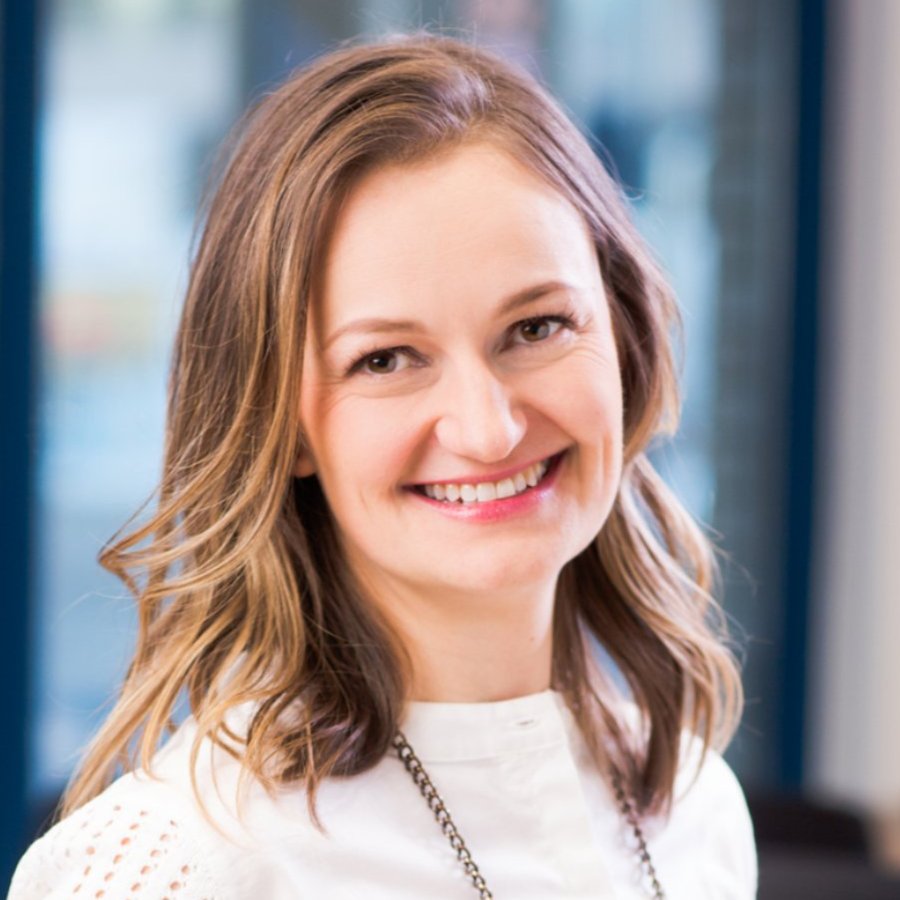 Kerri Peyton
IDA President
In addition, on October 17 we had several IDA members take home awards at the 3rd annual MASI (Manitoba-Alberta-Saskatchewan Interior Design) Awards, held at the Museum of Human Rights in Winnipeg. Watch for a list of winners and recap of the event, coming soon to your inbox. Way to go to our colleagues, for raising the bar on functional and beautiful interior design, and showing the rest of the country what Alberta designers have to offer.

While at the MASI event, our friends at PIDIM (Professional Interior Design Institute of Manitoba) also hosted the presidents of all the Canadian provincial interior design associations for a day of meetings. This was our third annual gathering, and it has become a real highlight for me. If I'm feeling at all tired or discouraged, this group of people are the antidote. The progress being achieved in other Canadian jurisdictions is exciting – but even more so, the level of camaraderie is truly amazing. This is a group of volunteers who give of their own time and knowledge, sharing what they have learned to help each other.

Part of our Presidents' meetings includes an update on activities in each province, which you might be interested to hear. You already know that Nova Scotia and New Brunswick have Interior Design Acts protecting both title and scope. ARIDO (Association of Registered Interior Designers of Ontario) are working with the Ontario Association of Architects (OAA) on the details of an agreement to work together to recognize interior designers under their Architect's Act. British Columbia (IDIBC) and Quebec (APDIQ) are both making progress with their respective provincial governments on providing additional recognition of qualified interior designers. And, of course, in Alberta we are working with the AAA to bring interior designers together and ensure qualified individuals have the right to practice.

Momentum is building across the country, and any improved recognition of our colleagues will only serve to elevate the profession in all provinces. Our ultimate goal is achieving reciprocity between jurisdictions, improving labour mobility and enhancing public understanding of our role.

I hope you have a wonderful November, and that news of these developments will inspire you to look for your own opportunities to support and uplift our community.
BUILDEX enables Alberta's designers to find inspirational ideas, collect continuing educational credits, and network with their peers - all in one place. Here is a selection of tailored highlights for IDA members.
Take a look at popular sessions with Interior Designers.
What can you expect? A fireside chat, hosted by Jacqui McFarland, featuring projects, career highlights and the philosophy driving one of Alberta's leading lights in commercial Interior Design, Sarah Ward.

The conversation with Sarah will conclude with discussion grounded in the WHY behind the interior design, the profession, and its community. Attendees will leave with questions to ponder and discuss in the networking reception that will immediately follow the keynote.

IDA members receive free admission to the keynote and following private networking reception, as well as show floor access.

Please note, there is a limited number of uses of the IDA Member discount code, so be sure to register early to claim your free pass.
IDA and IDC Membership Renewals
As we approach membership renewal season, please take note of this important change relating to payment of your optional IDC dues.

For several years, you have paid your Interior Designers of Canada (IDC) dues at the same time as your IDA dues. IDA has remitted your IDC dues to IDC on your behalf.

IDA has been informed by IDC that they are taking over the collection of their own dues for the next renewal cycle. See below for a comment outlining this change from IDC:
"Starting in January, IDC memberships across Canada will no longer be paid for through the portion of dues that, previously, were combined with provincial dues. Members will receive a separate invoice from IDC, for which payment is due in January 2020. This transition will ensure members continue to enjoy the many benefits of IDC membership.

As the national advocacy body, IDC is committed to continuing to provide high quality services and products that deliver measurable benefits for members at every stage of their career, as well as advocating to the public, government, and the wider business community on behalf of Canada's talented interior design industry. To learn more about IDC membership changes and benefits, tune in to the next President's webinar on Thursday, Nov. 21, 2019.

For more information on this change, please review IDC's FAQs or email info@idcanada.org."
Interior Designers of Canada
This means that your IDA dues payment will reflect your IDA membership only, and IDA no longer has any official affiliation with IDC. Please direct any questions or comments regarding this administrative change to IDC directly.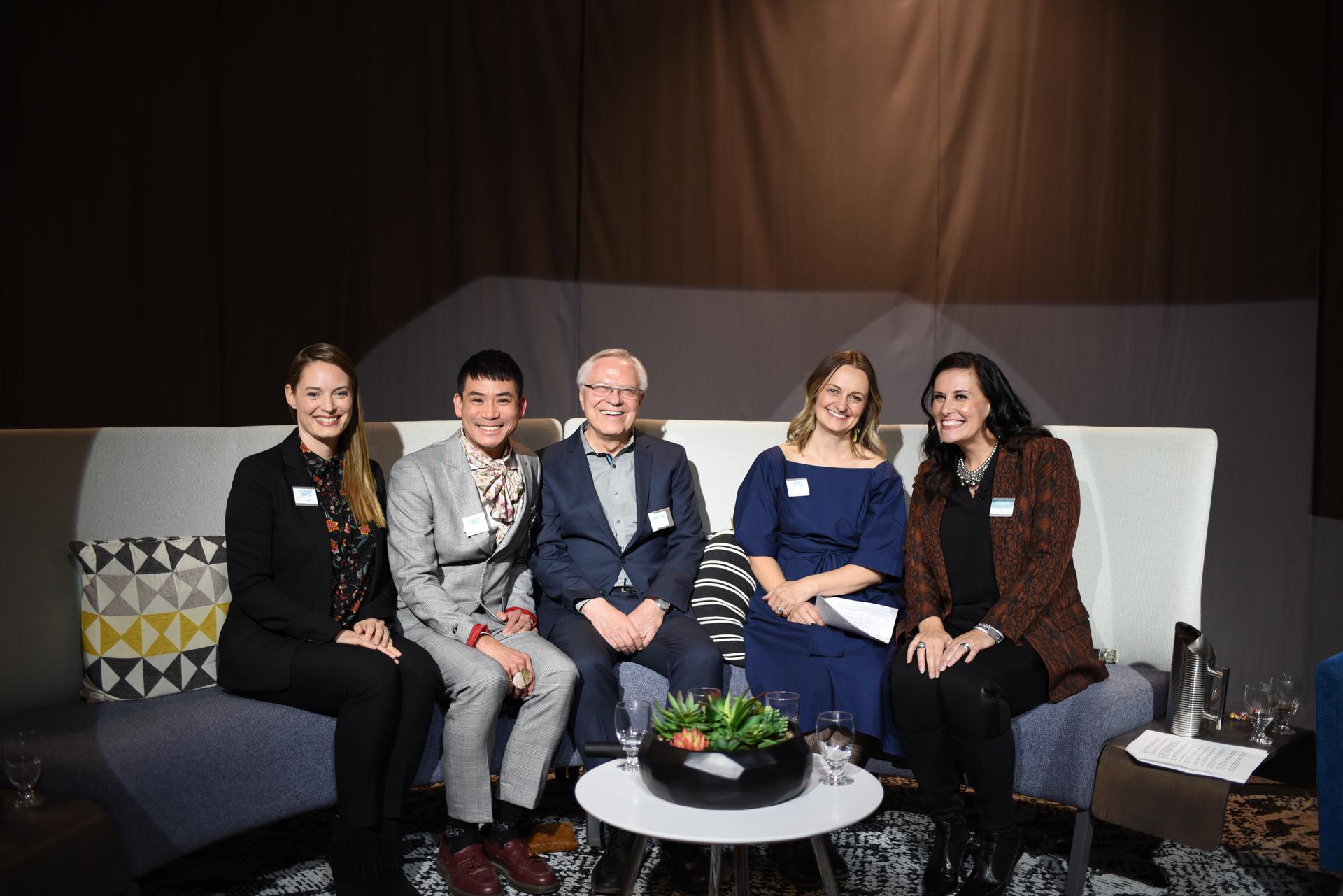 Talking with Designers: LIVE! Recap
Thank you to everyone that came out to support the live launch event of this series! We were very lucky to have attendees from Vancouver and Calgary come out to support this event, so thank you! We hope to bring this event annually, to our members and local design community.

Still not sure what all the hype is for the series? If you haven't already, take a listen to episode 2 of the Holo-Blok Architecture podcast, which features #talkingwithdesigners creators: Celeste Thiesen and Darren Gee. A big thank you to our generous sponsors: Holo-Blok Architecture, Teknion, Global Furniture Group, Cosentino, Herman Miller, COI Studio, Steelcase, RGO, Nerval, Erv Parent, RGO, and Shaw Contract! Without your generous support, none of this would be possible.

If you would like to watch the live stream from the event, simply head over to the Interior Designers of Alberta Facebook page to watch!

Be sure to follow @contractflooringsolutions_yeg on Instagram to view all of the #talkingwithdesigners monthly features! Photos from the event will be posted on the IDA Facebook page this week.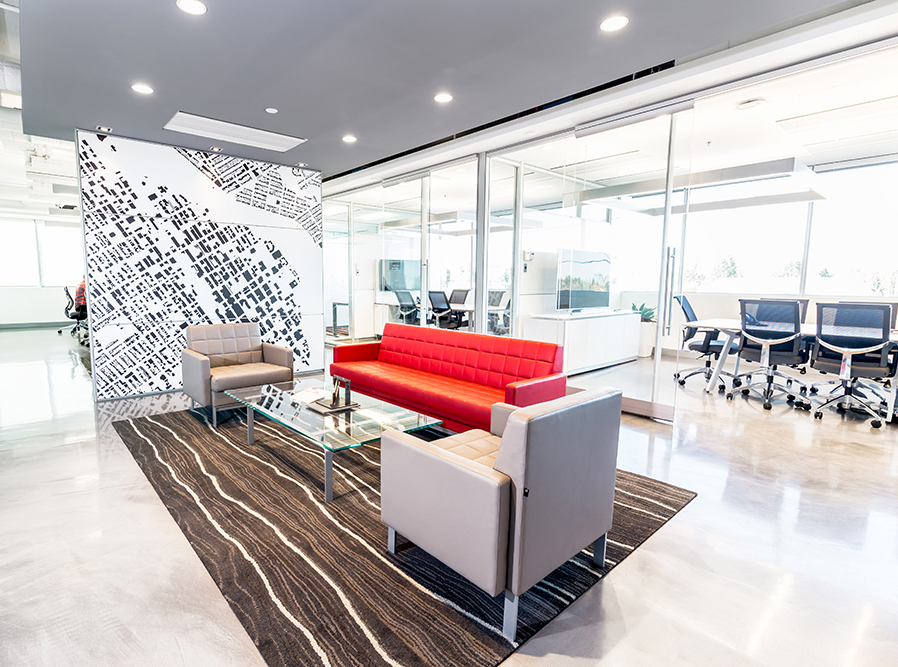 IDA Member Project Feature
Civic Works is a tenant improvement project located in Calgary, Alberta for a local urban planning and design firm. The interior design solution involves an open floor plan that utilizes demountable partitions to designate private offices and meeting rooms, and to informally define otherwise open spaces. A custom millwork 'work wall' running the length of the space has been created to provide essential storage and office functions, including copy/print and display space.

S2's scope of services on the project provided a turn-key result that included all phases of design from planning to contract administration, the selection and coordination of furniture, and the staging and decoration of the finished space.
We would love to showcase the work of our members on our social media platforms. Simply use the hashtag: #idalbertainteriors for a chance to be featured. Our next feature will be in December, providing plenty of time to get those projects photographed!
Upcoming Events of Interest
November 5, 2019 - HAWORTH (Calgary, AB)
November 6 - 7, 2019 - BMO Centre (Calgary, AB)
LightForm presents: Lighting Tools for Interior Designers (Edmonton)
November 6 - 7, 2019 - LIghtForm (Edmonton, AB)
LightForm presents: Lighting Tools for Interior Designers (Calgary)
November 8, 2019 - LightForm (Calgary, AB)
Grand Opening of Calgary Caesarstone Showroom and Distribution Centre
November 14, 2019 - Caesarstone Showroom and Distribution Centre (Calgary, AB)
AAA 2019 Calgary Holiday Social
November 21, 2019 - Centini (Calgary, AB)
IDC Webinar: Why Professional Liability Insurance is Essential
November 27, 2019
IDC Webinar: How to Report Your Hours with IDCEC
December 4, 2019
AAA 2019 Edmonton Holiday Social
December 5, 2019 - The Common (Edmonton, AB)
Current Openings

Opportunities advertised below are subject to change, please visit our job board to view current listings and for more information.
Call for Volunteers - If you are interested in getting more involved with the IDA, specifically its events, both current and prospective, please reach out to the IDA.
Volunteer

Contact the IDA office to learn more about volunteer opportunities for members.
Meet the IDA Council

Get to know our council members and follow us on social media.
Interior Designers of Alberta
202, 5405 99 Street NW
Edmonton, AB T6E 3N8
780-413-0013